SAPA VICTORIA HOTEL : Rate :


Victoria Sapa Hotel is located in Sapa, 380 km Northwest of Hanoi, among the Hoang Lien Mountains, in Lao Cai Province, near the Chinese border. 1.650 meters above sea level, famous for its pristine environment, unparalleled scenery and cool climate, Sapa is home to more than 30 colourful hill tribes and Vietnam's highest peak, the 3.143 meters Mount Fansipan.

More...,


CHAU LONG SAPA HOTEL : Rate :


Chau Long Sapa Hotel I & II can be found in a quite side street which is perched on a hill in this mountainous region. The stone and wooden construction blends perfectly with the surrounding valley features of terrace paddies and blazing green fields cut by fast following streams and overlooking Vietnam's highest peak – Mount Fan Si Pan .

More,,,.

BAMBOO SAPA HOTEL : Rate :

Accommodation at Bamboo hotel :28 rooms of the hotel offer a comprehensive guest facilities including: AC (H/C), satellite TV, IDD phone, private bathroom with bath-tub, hairdryer, fireplace and gas heater. Superior & Deluxe have own terrace featuring breathtaking views of Fansipan mountain.

Standard: 7 double rooms with double bed; 16 m2.

Superior: 18 double/twin rooms with balcony; 26 m2.

Deluxe: 3 larger rooms with salon area looking to Fansipan mountain; 30 m2 .

More ,,,.

SAPA GOLDSEA HOTEL : Rate :


Sapa Goldsea Hotel lies upon the mountain, looking over to the Muong Hoa valley, only 5 minutes away from Center Market and the Church which was built in the time of the French's ruling and the Town Center. In accordance with its spectacular charming space.

More ...,

SAPA SUMMIT HOTEL : Rate :

Sapa Summit Hotel has 40 rooms which are all well equipped with modern and most comfortable facilities such as IDD telephone, stallite television, fax, telex 24 hours service, specially, central heater. The only Bar & Restaurant view to Fanxipan mountain which you can enjoy the special European food as well as the traditional Asian dishes.

More ...,

SAPA ROYAL HOTEL : Rate :


The Royal Hotel was built in the year 2000 and is the hub or Royal Sapa (Viet Hung Company) operations. It is well known and well regarded for its comprehensive and efficient services. The Hotel itself is built o­n the hill and overlooks the Sapa Valley. Staff are friendly, helpful and efficient in taking care of guests and trekkers needs throughout their stay in Sapa.

The hotel has a total of 27 rooms :All rooms have TV, internal telephone, private bathrooms and hot water (12 rooms with Bathtub)

.More ....,

SAO MAI HOTEL - BAC HA MARKET: Rate :
Located in center of Bac Ha , Sao Mai is a popular place to stay and the rooms are clean and pleasant. The hotel has three sections: an older concrete building and two recently built wooden houses. There is a cosy restaurant /bar with outdoor seating under the plum trees. During the busy weekends the friendly owner organises traditional music perfomances in the bar. More ....,

What is our sleeper buses ?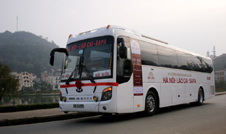 With the advent of good technology, there are now special passenger buses that offer a very comfortable and safe journey. These buses are specially designed for travelers and hence, are very comfortable to travel in and generally equipped with all the latest amenities such as music players and LCD screens for the fun and entertainment of the travelers. Traveling from Hanoi to Sapa and reversal is a fun filled experience via bus. As it is a cheap, highly accessible and a comfortable mode of transportation. Also travelling via buses gives one the advantage of enjoying the beautiful scenic beauty on the way.
Below are some popular busses that can be found for your Sapa trip.
AC buses: provide a comfortable journey allowing you to enjoy a pleasant bus ride to your preferred destination, unaffected by weather conditions outside the AC bus. For a comfortable travel experience, the buses are fitted with upholstered seats that can be reclined. Windows have curtains to block out the sun while some AC buses also play music or movies for entertainment of passengers.
Night Sleeper Buses: An innovative concept introduced a year ago, this type of sleeper buses are today the most preferred bus type for those who want to save time and quite convenient to take the other buses for next other destinations. Sleeper buses are specially designed for a comfortable bus travel experience and like trains have berths instead of seats. Each passenger is assigned a berth to sleep on during the journey. Most sleeper buses feature bunk beds with two berths each and feature window curtains as well.
Night Seater cum Sleeper Buses: The latest combination has resulted in the introduction of seater cum sleeper buses that offer you the choice of seats and berths within the same bus. A typical seater cum sleeper bus has two rows of seats that regular buses feature and in addition it also features a row of berths above the seats on each side of the aisle. Since the fare for a seat is less than that of a berth in a seater cum sleeper bus, depending on your budget and duration of travel, you can now opt for either a seat or a sleeper berth on seater cum sleeper buses.